Never

Drink Bland Coffee Again!

It's time to dump that substance you've been
calling "coffee" down the drain and get with
some real beans at Bones Coffee!

SHOP NOW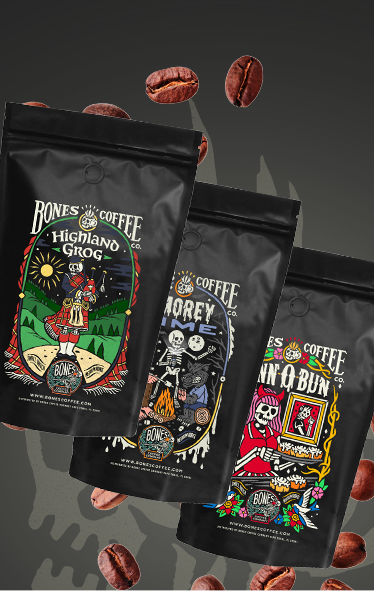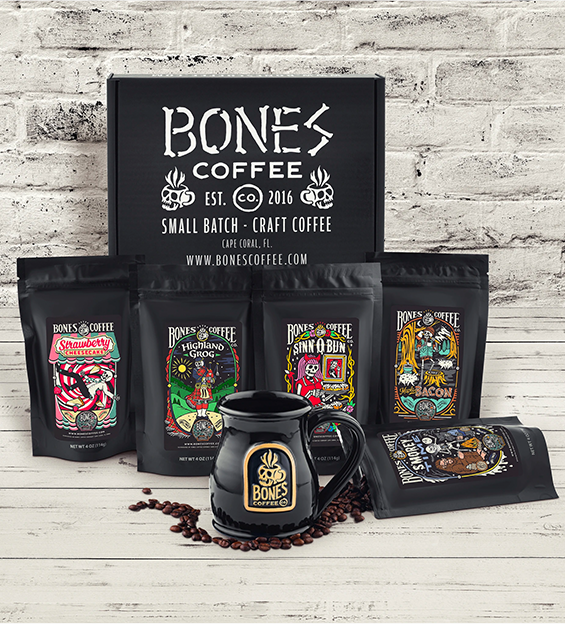 don't hesitate!
Get Our
Starter Kit
A Favorite Flavors Sample Pack—Strawberry Cheesecake, Highland Grog, Sinn-O-Bun, S'morey Time, and Maple Bacon (whole bean or ground)
Handmade mug from our friends at Deneen Pottery with our skull logo!
SHOP NOW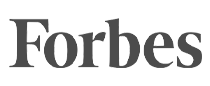 Taste

the Difference

and experience what craft coffee is all about in one bundle delivered straight to your door for just $64.98!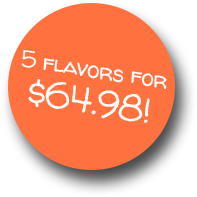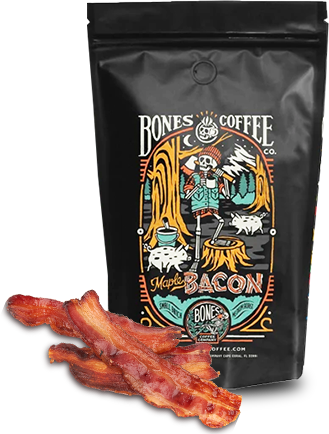 bacon flavored coffee
Maple Bacon®
What's your favorite way to start the day? Savory maple bacon? Check. Fresh, delicious coffee? Check. But what if you could have them at the same time just by brewing some coffee? To make that possible, we combined one of the greatest flavors of all time with our popular medium-roast coffee. The result is a slightly sweet and extremely smooth flavor that will transport you to your happy place.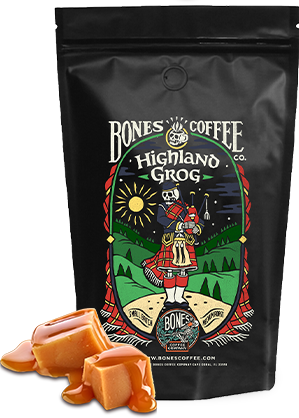 butterscotch and caramel flavored coffee
Highland Grog
Put on your kilt and break out the bagpipes for a truly exceptional cup of coffee! Spiced rum flavor with notes of butterscotch and caramel will have your inner Highlander gleaming with joy!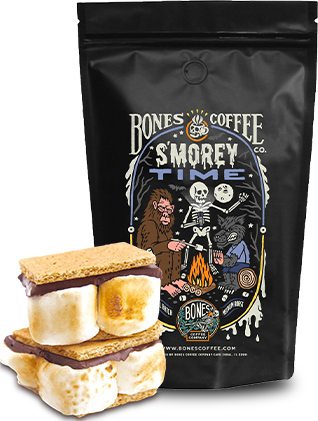 s'mores flavored coffee
S'morey Time
S'mores are the go-to campfire snack. A starry night in the woods, hanging around the fire with some friends, and telling spooky stories...it doesn't get any better than that! Our S'morey Time captures that feeling and puts it in your coffee! Medium roast, 100% Arabica beans are infused with chocolate and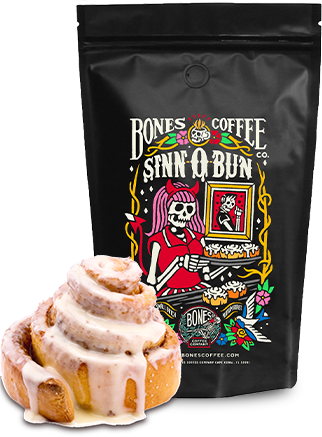 cinnamon roll flavored coffee
Sinn-O-Bun
Let's face it, cinnamon rolls are sinfully delicious. With no added sugar and no calories, our Sinn-O-Bun coffee lets you savor the flavor of this tasty treat without feeling like you have to cinnamon-roll-your-buns to the gym after!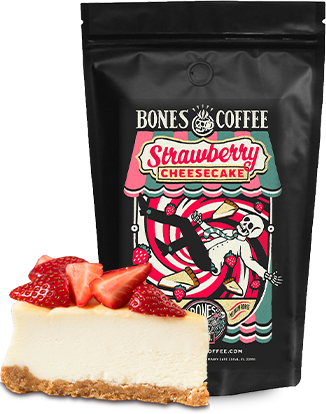 strawberry cheesecake flavored coffee
Strawberry Cheesecake
Prepare to have your mind blown by our Strawberry Cheesecake Coffee! A medium-roast Arabica blend gives you a smooth flavor with low acidity. A strong, sweet aroma with delicious fresh strawberry and savory cheesecake flavor. You won't want to miss out on this delectably unique flavor.
SHOP NOW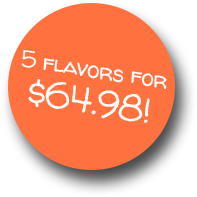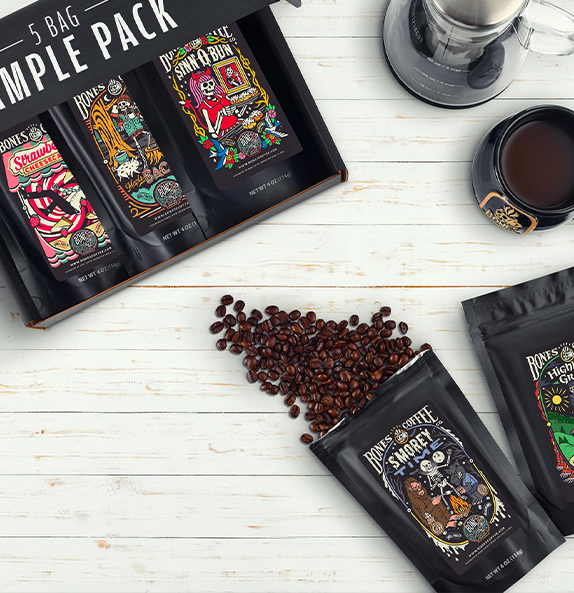 Bones Coffee Starter Kit
get it for $64.98
The Bones Coffee Co. Starter Kit is a great way to experience what we're all about and save by bundling! In this starer kit, you'll receive:

A Favorite Flavors Sample Pack (containing Strawberry Cheesecake, Highland Grog, Sinn-O-Bun, S'morey Time, and Maple Bacon®) in your choice of Whole Bean or Ground

A Skull Logo handthrown mug made by our friends at Deneen Pottery
The perfect way to experience our unique flavors and high-quality mugs!
bold to the bones
Why Bones
Coffee Company?
Coffee isn't just a beverage that kick starts your morning to us, it SHOULD be a delicious experience to enjoy each and every day! This is why we only use carefully selected beans that we roast to perfection in small batches, ensuring that you get the freshest coffee that's exceptionally smooth until the last drop. It's time you treat yourself to a big ol' cup of a full bodied caffeine buzz and live your life BOLD TO THE BONES—Shop today!
SHOP NOW